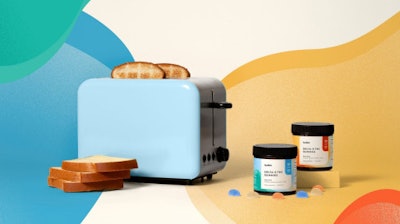 Budder
Joy Organics announced today the launch of its new sub-brand, Budder. The new Colorado-based company will make products to meet the rising consumer demand for Delta-9 THC products.
"We've launched two CBD + THC gummy products under Budder—one with 2.5mg of Delta-9 THC and one with 5mg of THC per gummy," said Barry Smith, Joy Organics' CEO.
Both gummy formulas will contain 25mg of CBD, 2mg of CBG, and other naturally-occurring cannabinoids for enhanced benefits attributed to a synergistic effect of combining hemp-derived compounds.
Because the THC content of each gummy remains less than 0.3% on a dry weight basis and because the extract is hemp-derived, it is the company's position that these new products comply with the 2018 Farm Bill. That means Budder's gummies can be shipped to most states, even those where recreational marijuana is yet to be legalized.
"Joy Organics will also continue to offer 0.0%-THC broad spectrum products and low-THC full spectrum products for those not interested in cannabis' intoxicating effects," said Smith. "We made the decision to launch these new products under a sub-brand to differentiate the two brands and better speak to our target audiences."