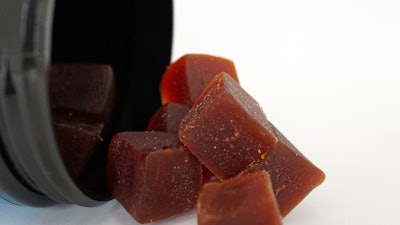 iStock
Coda Signature has introduced a new microdose variation on its Fruit Notes.
The "French-inspired" gummies now come in 1mg per-piece 10-pack, giving newcomers and low-tolerance cannabis consumers a means of maintaining precise control over their dosage. The microdose formulation is designed to offer minimal THC and maximum flavor.
"We want to make cannabis enjoyable for everyone. With our 1mg Fruit Notes, the holistic benefits of cannabis come without overindulgence worries," said CEO Maigread Eichten. "Our goal at Coda is to continue to innovate so more people can experience the wellness and indulgent tastes and effects of Coda."
The new product is available in Strawberry Daydream and Twilight Pomegranate variations and both retail for approximately $10-$15 (MSRP).
Coda's product expansion comes after last year the company announced an additional $6 million in funding to put towards North American expansion, R&D of new technologically innovative products, and to bring new expertise into the Coda team.
"We are buoyed by the leadership and direction being provided by CEO Lisa McClung, who has brought CPG discipline and corporate best-practices to Coda," commented Jim Flanigan, Co-Founder and Managing Director, Granite Hall Partners. "The company is well-positioned to leverage its legacy of technological innovation to bring new products to market and for rapid expansion into new states."