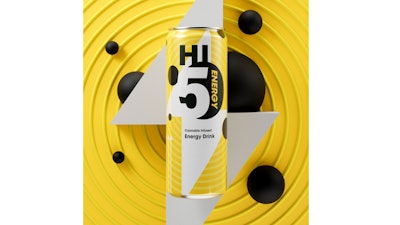 Theory Wellness
Theory Wellness, a independent and vertically-integrated cannabis company in Massachusetts and Maine, has expanded its Hi5 beverage brand with the launch of Hi5 Energy, a fast-acting cannabis-infused energy beverage.
Hi5 Energy is now exclusively available for purchase at Theory Wellness Massachusetts locations in Bridgewater, Chicopee and Great Barrington in regular and sugar-free citrus varieties.
Later this spring, Hi5 Energy is expected to roll out to the company's partner dispensaries in Massachusetts, as well as to its locations in South Portland, Bangor and Waterville, Maine.
Formulated using the same nano-emulsified cannabis as its predecessor, Hi5 Seltzer, the new cannabis-infused energy drink delivers a rapid onset of euphoric and therapeutic effects, helping to eliminate the waiting game that's characteristic of traditional edibles.
Each can contains 5 mg of THC and approximately 80 mg of caffeine, which is consistent with traditional energy drinks and roughly equivalent to a cup of coffee.
The energy drink market is forecasted to reach nearly $100B with a 7.2% compound annual growth rate (CAGR) by the year 2027. This coincides with the tremendous growth in the infused cannabis beverage market, which is projected to reach $2B with a 16.9% CAGR by the year 2026. The cannabis beverages market was estimated at around $915M in 2021.
Hi5 seltzers launched in March 2021 and has since seen rapid growth, selling more than 1 million cans in Massachusetts in less than nine months.