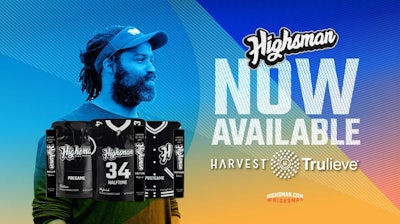 Trulieve
Trulieve Cannabis today announced the official launch of Highsman, the cannabis lifestyle brand founded by NFL legend Ricky Williams. Highsman will be available statewide in all Trulieve and Harvest branded Arizona retail locations starting Friday, January 20.
"Trulieve is excited to launch this limited-time exclusive partnership with legendary NFL player Ricky Williams in Arizona, just weeks before the Super Bowl will be hosted in the state," said Kim Rivers, CEO of Trulieve. "Ricky was well-known for his belief in the power of cannabis during his playing days, and the Highsman brand reflects his values and passion for cannabis. We are proud to launch Highsman products in the Arizona market."
Highsman will be exclusively available at Trulieve and Harvest branded Arizona retail locations until February 4. Highsman has partnered with Abundant Organics to bring premium organically grown cannabis to Trulieve and Harvest's Arizona locations. Personally curated by Williams, the product selection includes eighths and pre-rolls.
Harvest and Trulieve-affiliated dispensaries in Arizona are located in Avondale, Casa Grande, Chandler, Cottonwood, Glendale, Guadalupe, Lake Havasu, Mesa, Peoria, Phoenix, Scottsdale, Sierra Vista, Tempe, and Tucson.