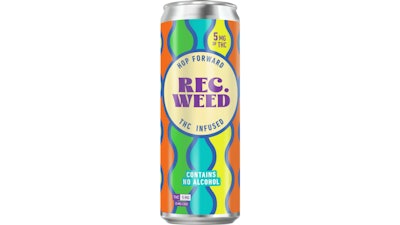 Harpoon
Harpoon Brewery is dipping their toes into new territory with the launch of their first THC-based beverage: Rec. Weed. Made in partnership with Massachusetts' Novel Beverage Company, Rec. Weed is a hop-forward yet approachable beverage made with 5 milligrams of THC, real passionfruit puree, green tea, and hops at only 25 calories and 3 grams of sugar per can. With tropical juiciness and citrusy hop notes, Rec. Weed has a clean, crisp finish that encourages consumers to kick back at the end of a long day and unwind with a new kind of drink in their hand.
Rec. Weed is brewed similarly to a session ale but without fermentation, meaning it has no alcohol content. The process starts with a base of green tea and a bit of added sugar, followed by the cold steeping of Citra and other West Coast hop oils and passionfruit puree. After the steeping process, THC is added to the liquid base, and the beverage is carbonated like a traditional beer. This process imparts minimal THC flavor or aroma. And because the THC is absorbed into the liquid, people feel its effects quicker than with more common edibles.
"Our consumers come to us with an innate curiosity to try new THC products from brands they can trust. Rec. Weed meets them at the intersection of what they want – a buzz through a non-alcoholic and low-calorie beverage that doesn't sacrifice on taste," Donald Wyse, COO of Seagrass Dispensary in Salem, MA. "Both Harpoon's and Novel Beverage Co.'s expertise in their respective fields contributed to creating an exciting product we know our consumers will love. We're excited to roll Rec. Weed out."
The launch of Rec. Weed marks the second step into marijuana-inspired products for Harpoon's parent company, Mass. Bay Brewing Company, with the first being Long Trail's CBD Seltzer. The CBD seltzers are non-alcoholic, hemp-infused seltzers that pay homage to a classic Long Trail flavor. They are available in the following flavors: Raspberry Lime, Blueberry Melon and Blackberry. Long Trail's CBD Seltzer can be purchased at Long Trail Tap Room in Bridgewater Corners, VT and is also distributed in MA, VT, RI, CT, and NJ. Find it today using the Long Trail Beer Finder.