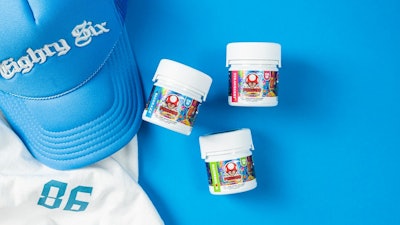 Eighty Six
Oklahoma based alternative cannabinoid brand Eighty Six is launching Fun Guy.
Fun Guy enters the market with three flavors – BlueRazz, Strawberry, and Watermelon. Each gummy contains 350mg of Amanita Muscaria, a federally legal medley of mushrooms that deliver a psychoactive experience.
Amanita mushrooms, otherwise known as the Amanita Muscaria, is an easily recognizable red mushroom dotted with white specs on its cap. The mushroom contains muscarine and ibotenic acid, both of which convert to muscimol when consumed directly or is decarboxylated into a finished product. The experience mimics the effects of a classic "magic mushrooms" trip.
The typical psychedelic trip from traditional "magic mushrooms" contain psilocybin, whose hallucinogenic properties interact with serotonin and dopamine neurotransmitters. The result is an intense and long-lasting trip that may or may not turn sour depending on your state of mind.
Amanita mushrooms, on the other hand, break down into muscimol to interact with GABA receptors. Due to the abundance of GABA receptors and its ability to affect the central nervous system, the psychoactive experience, while significantly milder, can vary from person to person. A single, 350mg dose of Amanita mushrooms is roughly the equivalent of 100mg of psilocybin, with one dose delivering whole-body relaxation and improved sleep quality, and higher doses potentially producing spontaneous sensation, visual distortions, and at times synesthesia – read: hallucinations.
Similar to how Delta-8 THC's legal status exists through a loophole in the 2018 Farm Bill, Amanita mushrooms' legal status exists through a loophole on the Controlled Substances list. Psilocybin is a Schedule I controlled substance, illegal to possess and distribute. Amanita muscaria, muscimol, and ibotenic acid, all of which produce that milder psychedelic high, are not on said list.
Amanita mushrooms are federally legal in all but one state – Louisiana. Legislative loopholes are not a new thing, but are commonplace in the ever-expanding active ingredients industry.