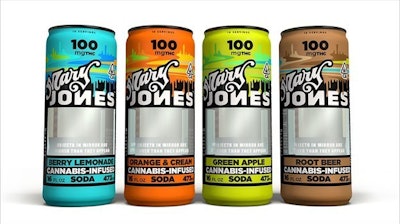 Jones Soda
Jones Soda this year launched its Mary Jones line of cannabis-infused beverages and now the company may be looking to expand the segment.
"We also look forward to potentially expanding the availability of our popular Mary Jones cannabis infused beverages and related products across several states. Recently, we announced the upcoming expansion into the state of Washington, where we will launch a full portfolio of products across beverages and edibles at both low and high dose options in the coming quarters," said CEO Mark Murray. "We believe our continued focus on seizing the opportunities within the cannabis market has been met with outstanding success. We are confident in this strategic initiative and remain committed to exploring additional product offerings to increase our presence in this rapidly growing industry."
The company this week announced its full-year earnings, which were marked by a net loss of $6.4 million, up from a loss of $1.8 million during the year prior. The wider loss came despite the company's 2022 revenue increased 29% to $19.1 million, compared to $14.8 million.