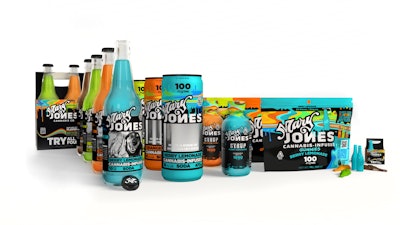 Mary Jones
Jones Soda today announced the upcoming expansion of its new Mary Jones cannabis-infused beverage brand to the state of Washington following a successful June launch in California. Washington ranks in the top 10 cannabis markets in the U.S. as well as one of the first with legalization dating back to 2012, making it a priority market for establishing and growing the Mary Jones business.
The choice of Washington as the next step in building Mary Jones' national footprint also meets strong demand in Jones' home state, where the arrival of Mary Jones products has been highly anticipated by local dispensaries and cannabis users since the new brand was unveiled last spring.
Manufacturing and distribution will be handled by CompCanna Inc. and Washington-licensed cannabis processor Dogtown Pioneers, Inc. Compcanna developed the IP brand concept, Ray's Infused Lemonade, which is the #1 cannabis beverage brand in Washington, and with Dogtown has achieved a 95% penetration in dispensaries throughout the state. These strategic relationships will help speed the process of placing Mary Jones products on local dispensary shelves.
In both Washington and around the country, enthusiasm for the Mary Jones line is being driven in part by the brand equity and passionate fan base built by Jones Soda over the company's 26- year history. Jones' signature flavors, irreverent brand personality and highly engaged fans have positioned Jones to become a strong contender in the cannabis space.
Mary Jones will launch in Washington dispensaries in early 2023 with a full portfolio of products across beverages and edibles at both low and high dose options, matching the specific preferences in the market. Each of these products has already been developed by Jones' flavor scientists for the California market.
Mary Jones 10mg and 100mg THC-infused sodas will launch with fan-favorite flavors Root Beer, Berry Lemonade, Green Apple and Orange & Cream that taste just like the mainline Jones craft sodas that have been top sellers for over 25 years. As with Jones' craft soda line, Mary Jones will also feature new seasonal limited-edition flavors as well as those pulled from the archive of 150 flavors that Jones has created to date.
The 10mg sodas are packaged in single-serving 12 oz glass bottles sold in 4-pack carriers. The 100mg sodas will come in 16 oz resealable, child-resistant, multi-serve cans designed for paced consumption and/or social sharing with friends.
"Our home state of Washington is one of the country's most robust recreational marijuana markets with annual sales of roughly $1.5 in 2021 and a projected $2.5 billion in annual sales by 2025," said Mark Murray, President and CEO of Jones Soda Company. "Now that our Mary Jones business is off and running in California, bringing Mary Jones to Washington with a strong strategic partner like CompCanna makes perfect sense as we pursue our plans for international rollout in all recreational use markets."
Since launching in California, the Mary Jones line has surpassed internal expectations and market forecasts with placement in more than 250 dispensaries in just six months and enthusiastic reception from both consumers and budtenders, catapulting Mary Jones into the top three infused carbonated beverages and the state's fastest-growing cannabis brand. This strong position sets Mary Jones up for continued revenue growth in California, the world's largest legal cannabis market, with opportunities for distribution in as many as 250 additional dispensaries as well as new products and flavors that will be added to the portfolio on a regular basis.
The first Washington dispensaries to carry Mary Jones products will be announced on the storefinder page at www.gomaryjones.com shortly before launch.