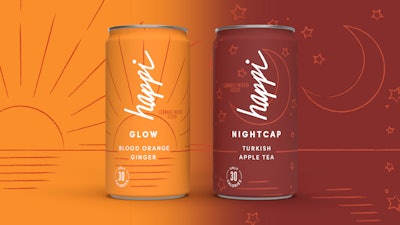 Happi
Cannabis-infused seltzer brand Happi today debuted Happi Glow and Happi Nightcap. The functional beverages are created with a unique blend of minor cannabinoids and non-psychedelic lion's mane and reishi mushrooms. The formulas are the first of their kind and Happi recently filed a patent application to cover the product formulation.
Happi Glow is available in a citrusy, bright Blood Orange Ginger flavor. Each can has 5 mg of THC, 5 mg of CBD, 3 mg of CBG and 2 mg of CBN. Designed for daytime, Happi Glow also includes lion's mane mushroom, which can help promote calm and focus to keep you clear-headed.
Happi Nightcap is available in Turkish Apple Tea, featuring notes of crisp apple and warm spices. Each can has 5 mg of THC and 5 mg of CBN. Ideal for evening, Happi Nightcap includes reishi mushrooms to promote better sleep.
In addition to Glow and Nightcap, the brand also features two original flavors: Lemon Elderflower and Raspberry Honeysuckle.
Happi was co-founded in Michigan in 2021 by CEO Joe Reynolds and President Lisa Hurwitz, a CPG and cannabis industry expert with a career-long focus on women's brands and products.