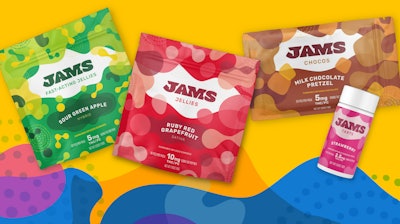 Curaleaf
Curaleaf today announced the expansion of its brand portfolio with the launch of JAMS, a cannabis edibles brand that is now available in Florida and is coming soon to Arizona with additional states to follow in the coming months.
JAMS offers a line of cannabis-infused treats in a range of dosage options that can take effect in as few as 15 minutes. The full product lineup includes:
Jellies: 10mg THC, naturally-flavored and long-lasting treats are offered in Mixed Berry (Indica), Ruby Red Grapefruit (Sativa) and Peach (Hybrid).
Fast-Acting Jellies: Offered in three sour flavors including Sour Watermelon Lime (Indica), Sour Strawberry Lemonade (Sativa) and Sour Green Apple (Hybrid) at 5mg THC each.
Chocos: Three flavors including White Chocolate Birthday Cake, Milk Chocolate Pretzel, and Dark Chocolate Peppermint at 5mg THC per piece.
Tarts: 2.5mg THC tarts are available in Tangerine, Raspberry Lemonade and Strawberry flavors.