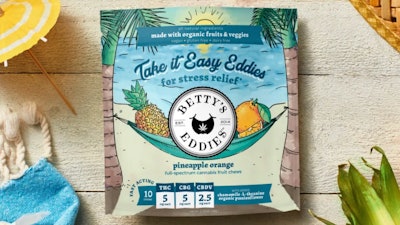 MariMed
MariMed's wholly owned subsidiary, Kind Therapeutics USA, has received approval from the Maryland Medical Cannabis Commission (MMCC) to immediately begin producing and distributing higher-dosage, THC-infused edibles. Maryland cannabis regulations changed in 2021, imposing a THC limit of 10 milligrams per edible serving unless the product was produced and distributed from a Good Manufacturing Practice (GMP) certified kitchen.
GMP certification is a process conducted by third-party auditors that ensures a commercial kitchen and the products created there meet the highest standards for health and safety. When the Company's Hagerstown, Maryland, production kitchen secured GMP certification recently, MariMed immediately applied for and yesterday received approval from the MMCC to once again produce and distribute its very popular high-dosage products in the state. The company plans to add 40 mg products across its entire edibles portfolio very soon, beginning immediately with Betty's Eddies fruit chews in the coming weeks.
Earning GMP certification requires extensive health and safety standards to be applied and maintained at a commercial kitchen, including the construction of the physical environment, equipment and employee cleaning processes, the procurement of materials, employee training, and the ingredients that must be used in the creation of products made there.
"We're thrilled to once again offer higher-dose edibles across our entire product portfolio to the medical cannabis patients of Maryland," said MariMed CEO Jon Levine. "Our higher-dose Betty's Eddies fruit chews were the most popular cannabis products in Maryland before the state's regulations changed. Now that we've earned GMP certification and the state's approval to move forward, we look forward to bringing high-dose products back to medical cannabis patients."
Maryland is a key growth state for MariMed. The Company became a fully vertical operator in Maryland with the October 2022 opening of its Panacea Wellness dispensary in Annapolis. MariMed operates a 90,000 square foot cultivation and production facility in Hagerstown, from which the Company's branded cannabis products are distributed to virtually all the 100+ dispensaries throughout the state. Maryland's cannabis program will include adult-use sales, which state regulators have said could begin in July 2023.