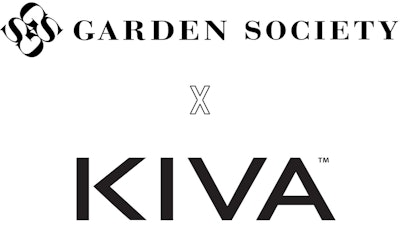 Kiva/Garden Society
Garden Society, a women-owned California Wine Country cannabis company, announced a two-fold partnership with Kiva Confections and Kiva Sales and Service (KSS). In California, KSS will sell and distribute Garden Society's products to retailers state-wide, while in New Jersey, Garden Society will manufacture Kiva's portfolio of edibles, such as Camino and Lost Farm gummies.
Kiva Sales and Service (KSS) will tap its extensive sales, distribution, and branding experience to elevate Garden Society's retail products to connect the company with new cannabis consumers and expand its market share.
"KSS is honored to partner with Garden Society and act as their exclusive distributor, helping bring their new product lines to the California market," noted Brooks Jorgensen, President of Kiva Sales and Service. "Garden Society is known for their high quality offerings that consumers love, and we're looking forward to helping the brand reach new California consumers far and wide."
As of May 1, Kiva Sales and Service will sell and distribute all Garden Society products, including its newest release: solventless hash-infused pre-rolls available as a single 1-gram or a 5-pack of 0.5 grams per pre-roll (2.5 grams total). Made from sustainably grown cannabis from craft farms in Mendocino and Sonoma counties, the delicately-rolled pre-rolls are made with whole-flower cannabis and bubble hash and artfully packed into all-natural papers with a folded tip for an even burn. The hash-infused pre-rolls are available in three effects: Brighter Day, Calm & Focus, and Blissful Rest. Suggested MSRP for a 5-pack is $30, and for a single, $13.
"Kiva is a best-in-class operator with a strategic view of the industry nationwide," said Erin Gore, Founder and CEO of Garden Society. "We look forward to a long relationship and dedicated support of one another as we both expand into new states."
In addition to the California collaboration, later in 2023, Garden Society will manufacture all Kiva Confections products in New Jersey beginning with the company's effects-based Camino and vegan Camino Sours gummies, with other products to follow soon after.
"We're elated by the opportunity to continue building up our partnership with Garden Society as we expand into the New Jersey market," commented Kristi Palmer, Co-Founder of Kiva Confections. "We can't wait for consumers to discover our premium, precisely-dosed, and delicious suite of edibles that so many across the U.S. have come to trust and love."