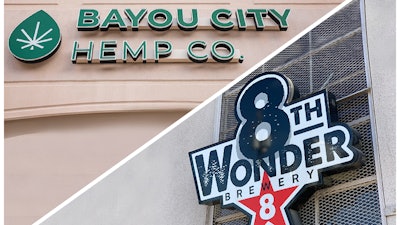 Bayou City Hemp
Houston's Bayou City Hemp Company, a cannabis operator in Texas, announced the acquisition of 8th Wonder Brewery, Distillery and Cannabis, one of the city's most popular and respected craft brewers and distillers. The announcement follows a series of successful collaborations to create non-alcoholic THC beverages for canna-curious Texas consumers. The acquisition integrates the artisanal expertise of the iconic Houston craft brewer with the cutting-edge science of Texas' largest and most trusted cannabis operator. With a C-suite that draws from a wide range of experience (oil and gas, beverage sciences, CPG branding and marketing), Bayou City Hemp is poised to capture the Texas adult beverage market with a diversified portfolio of leading brands. The transaction has enormous implications for both the Texas beverage industry and the U.S. cannabis market, which is expected to grow to more than $86 billion by 2030.
"We're excited to welcome the 8th Wonder Team to the Bayou City Family," said Benjamin Meggs, Chief Executive Officer of Bayou City Hemp Company. "Our commitment to provide quality products and trusted brands to consumers is strengthened with 8th Wonder, who has been a Texas staple in craft beer and spirits for over a decade. We look forward to growing market share and distribution to the entire portfolio of products through expanded resources and combined expertise. This is not merely an acquisition; it is a bold declaration of our intent to lead and innovate in the heart of Texas."
As the first of its kind, the combined company houses cannabis, craft beer and spirits under one roof, to be distributed and sold together in traditional sales channels across the country.
Bayou City Hemp will leverage the established and trusted brand awareness 8th Wonder has built over the last decade to accelerate its portfolio's speed to market.
"From day one at 8th Wonder, our goal was to build a hundred-year company," said Ryan Soroka, co-founder and principal architect of the highly successful 8th Wonder brand. "This transaction will provide the leadership and resources needed to achieve that dream. We look forward to a refreshed and revitalized 8th Wonder as we move forward with Bayou City Hemp into the exciting future of the beverage and cannabis industries."