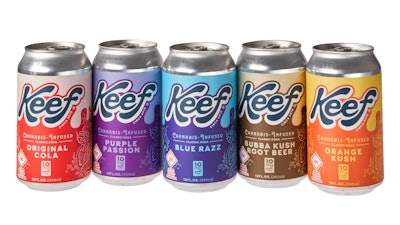 Indeed Brewing Company
Indeed Brewing Company on Friday announced a new manufacturing and distribution partnership with Colorado-based cannabis company Keef Brands.
The brewery, which was among the first in Minnesota to release a line of THC-infused edibles, will make and distribute the lineup of 10 mg cannabis-infused Keef sodas, including Purple Passion, Orange Kush and Bubba Kush Root Beer.
The sodas are now available at the Indeed Brewing Company taproom in Northeast Minneapolis and in select retail stores across Minnesota.
Based in Boulder, Colo., Keef Brands has been in the cannabis beverage space since 2010, and now has a presence in 13 legal cannabis markets across North America.
Minnesota's legislation allows cannabis beverages to be sold outside of traditional dispensaries. The move could set a path that makes the state the first to allow THC beverage sales at stadiums and concert venues.