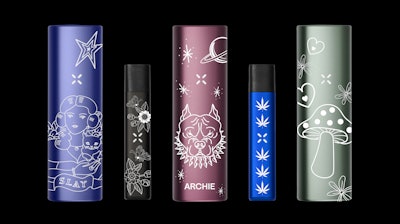 PAX
PAX today announced the launch of My PAX, a new program offering customization capabilities for the brand's cannabis vaporizer devices to consumers across the United States. Replicating PAX's in-store program for engraving devices, My PAX offers consumers a platform for durable customization and a more personalized cannabis experience.
My PAX is launching with an exclusive library of custom, hand-drawn designs by Akiko Tsuji, an artist, ceramicist, editor, publisher and fashion designer who previously collaborated with the brand on a limited edition device collection. Focused on key consumer trends, nostalgia and individuality, artwork options include themes like cannabis culture, patterns and prints, stick-and-poke and Americana-style tattoo designs, mandalas, 90s culture, zodiac symbols and State pride. Additional collaborations will roll out in the coming months with leading artists offering fresh new perspectives for device personalization.
Consumers select their preferred device and colorway, and then add custom text and artwork, selecting from nine distinct font options and a searchable gallery of images exclusive to My PAX. Designs are visible in real time and can be resized, rotated and refined, before adding to cart and checking out. My PAX is now available on pax.com for an additional fee of $20 for PAX devices and $15 for Era devices. Product is laser engraved and shipped approximately one week after order is placed.