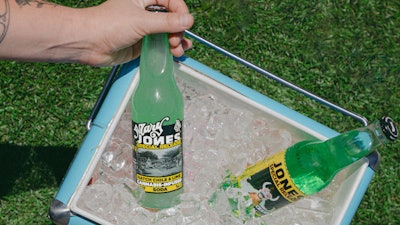 Mary Jones
Jones Soda today announced the first crossover special edition flavor release with both the Jones Soda and Mary Jones brands. The new Hatch Chile and Lime soda will be available from both brands this year, marking the first dual special flavor release between Jones and Mary Jones – an industry first in both categories.
Mary Jones was the first cannabis product portfolio to leverage 25 years of a mass market-established equity across brand, beverage, flavors and fans. The portfolio was initially launched in California with multiple formats offered in four of the most popular Jones Soda flavors.
All Mary Jones products are created by the same ingenious flavor scientists who have made Jones famous for unexpected and bold soda releases for the most robust, delicious tasting products in the cannabis category.
Watch: Bohb Blair: Mary Jones Wins on Flavor
The Mary Jones brand has seen such enormous success in California, it has since announced plans for expansion into cannabis-legal Michigan, Washington and Nevada with additional markets to be announced in the future.
Hatch Chile and Lime special release soda combines the bold flavors of smoky hatch chiles with a refreshing zing of lime.
The cannabis infused Mary Jones products come in both 10MG single serving and 100mg multi-serving formats. Available now and all summer long throughout California dispensaries.
"We have cannabis consumers and dispensaries in legal states from across the country contacting Mary Jones about our products," added David Knight, CEO Jones Soda. "Our new Hatch Chile and Lime is just the start of the incredible flavors we'll be bringing to the THC community."