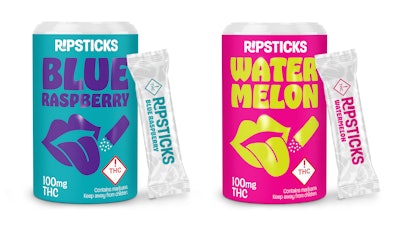 Ripple
Ripple, a provider of water-soluble THC products, is announcing the launch of Ripsticks, "Pixy Stix for adults."
Ripsticks represent the next evolution of Ripple's QuickSticks, launched in 2020.
Ripsticks are vegan, gluten-free, and contain only one gram of sugar. And the waterproof packets won't melt or freeze.
Each package of Ripsticks contains 10 powder packets designed to be poured directly onto the tongue, delivering a total of 100mg of THC per container and 10mg THC per packet (MSRP $14). Ripsticks are available in flavors including Blue Raspberry (sativa effect), Watermelon (indica effect), and Live Rosin (small batch, limited edition drops). They can be purchased at more than 100 dispensaries across Colorado.