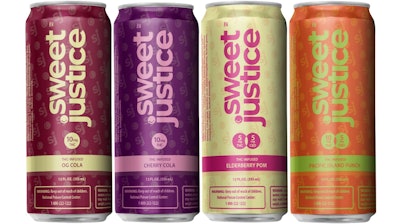 Lansing-based cannabis cultivator and processor, Franklin Fields, recently launched Sweet Justice, Michigan's first cannabis-infused sodas.
Launched in Canada in 2021, the brand was the country's first cannabis cola, which made its American debut through the partnership with Franklin Fields.
The Sweet Justice formula uses scant amounts of real cane sugar (no high-fructose corn syrup), natural cola flavorings and essence, and lower carbonation to minimize gas bloating, to deliver a smooth, balanced traditional cola with a THC twist.
The Twisted Classics and Vibrant Sips come in four sessionable initial flavors:
OG Cola with 10mg THC
Cherry Cola with 10mg THC
Elderberry Pom with 5mg each THC and CBD
Pacific Island Punch with 10mg THC and 5mg CBD.
Franklin Fields is currently in R&D on two new seasonal flavors with 10mg THC each: Cranberry Ginger Ale, set to launch in the fall, and OG Ginger Ale, on deck for spring. A third, higher dose flavor is in development for summer 2024 – Root Beer, boasting 25mg THC for more seasoned consumers.
Sweet Justice donates a portion of proceeds to the Great Lakes Expungement Network (GLEN), a collection of community-based organizations, professionals, businesses and criminal defense attorneys dedicated to providing Michiganders with criminal records an opportunity for a clean slate through fee-free expungements.
Sweet Justice can be found at The Botanical Co. locations in Lansing, Middleville, Tawas and Kalkaska, as well as through other retail partners across the state.
Franklin Fields is a Carbidex company with a state-of-the-art cultivation and processing facility that manufactures various small-batch craft cannabis products.
The Franklin Fields house of brands includes Sweet Justice, EverydayC and Forty Acres.
Carbidex is a family-owned holding entity with companies rooted in cannabis and facilities management industries, including Franklin Fields, The Botanical Co. retail provisioning centers, Kalkushka cannabis lounge and Go Greener facilities maintenance.