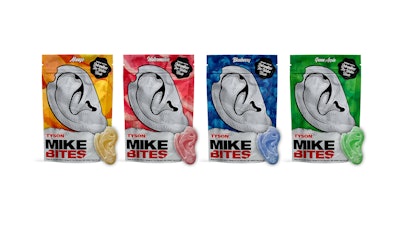 Tyson 2.0
Mike Tyson's cannabis brand Tyson 2.0 launched Solventless Mike Bites, a new line of gourmet THC edibles prepared by a former Michelin star chef and produced with My Green Network.
All Tyson 2.0 products undergo strict laboratory testing and quality control. But Solventless Mike Bites takes this commitment further: "Solventless extraction is the cleanest and purest way to preserve the plant's unique properties," said Alexander Federico, Chief Revenue Officer of My Green Network, Tyson 2.0's partner for the Solventless Mike Bites.
"Instead of chemicals, we use ice cold water, time and temperature, harvesting and handling flower in small batches to preserve and protect each live trichome. The final result is a pure and uncontaminated extract infused into each Solventless Mike Bite," said Federico.
Solventless Mike Bites' ingredients include pectin, a vegan, plant-based ingredient derived from citrus fruits–not gelatin, an animal derivative common in most gummies–paired with glucose, not high fructose, resulting in a clean, sweet taste encased in a satisfyingly chewy texture that packs a punch and lingers delightfully on the palate.
"We're honored to have partnered with My Green Network in crafting the Solventless Mike Bites. Their expertise in solventless extraction aligns seamlessly with Tyson 2.0's pursuit of perfection," said Adam Wilks, CEO of Tyson 2.0. "Get ready for a truly undisputed edible experience."
TYSON 2.0 is renowned for curating exceptional products in quality, consistency, and accessibility through strategic partnerships with the world's best cannabis operators–like My Green Network.