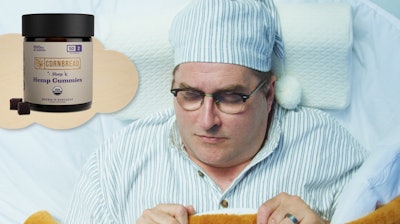 Cornbread Hemp
Cornbread Hemp announced the launch of its USDA organic CBD Sleep Gummies, which it said are the first-ever CBD gummies for sleep to be USDA certified organic.
Sourced from Kentucky hemp flowers, valerian root, chamomile, lavender and crushed rose petals, Cornbread Hemp's CBD Sleep Gummies offer a natural alternative to support a good night's sleep, without melatonin. The company is committed to providing customers with the highest-quality full spectrum CBD gummies that include up to 2mg of THC per serving, verified by third-party lab tests.
"We're proud to lead the industry by offering the very first USDA organic CBD sleep gummy," said Eric Zipperle, CEO of Cornbread Hemp: "We believe that supplementing the endocannabinoid system is essential for overall well-being and a healthy sleep cycle, and our melatonin-free approach distinguishes us in the market. We are committed to providing our customers with a natural, organic, and effective solution for a good night's sleep."
Podcast: Jim Higdon: Exposing Shady CBD Practices
The decision to produce Cornbread's USDA organic CBD Sleep Gummies without melatonin caters to the growing consumer concern about melatonin's potential side effects, and the safety hazards of using it long term. Instead, Cornbread's CBD Sleep Gummies harness the beneficial properties of CBD and THC to support a healthy sleep cycle, while adhering to the rigorous standards set by the USDA organic program.
Cornbread Hemp's CBD Sleep Gummies are now available for purchase on their official website, cornbreadhemp.com and through select retail partners.