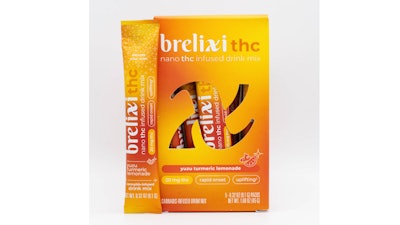 Brelixi
Brelixi has officially launched its line of nano cannabis-infused instant drink mixes. Backed by female food scientist Breanna Neff, brelixi draws on the power of its proprietary nano cannabis technology and functional ingredients to offer consumers convenience, discretion, and wellness.
Featuring nootropics, electrolytes, antioxidants, and adaptogens, brelixi is currently available in two flavors: Elderberry and Hibiscus Lemonade, with 30 mg of CBD, and Yuzu Turmeric Lemonade, which offers 20 mg of THC. The brand uses its nano cannabis technology to provide a faster onset time (of about five to ten minutes), with more perceivable effects–making it one of the fastest-acting and longest-lasting cannabis products on the market.
Expertly flavor-masked by Neff, who honed her expertise working with global food & beverage leaders and startups, brelixi not only offers a refreshing taste but a number of wellness benefits as well. A few notable benefits include enhanced hydration, stress reduction, enhanced focus and mood, strengthened immunity, and more.
Brelixi allows users to tailor not only the dosage but also the flavor to their personal preferences. The company encourages its customers to "Know Your Dose" in order to achieve that perfect vibe. To enjoy brelixi, the company recommends mixing one stick in either 8, or 16 ounces of water, depending on the desired flavor. Consumers should drink only half of their glass to start, and slowly increase the dosage after about five to ten minutes.
Priced at $12 per stick or $45 per 5-pack, brelixi is available nationwide (subject to state regulations) online and at select dispensaries and specialty stores.