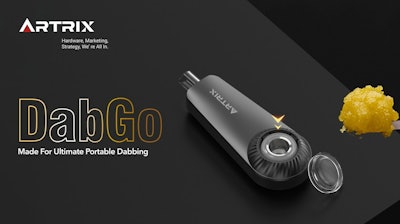 Artrix
Artrix announced the debut of DabGo, a disposable dab pen.
It's designed specifically for vaporizing cannabis concentrates including live rosin, wax, budder, shatter and other popular cannabis extracts without the need for cleaning, filling and maintaining the device. Features include an expanded inlet space, a snap-in window cover, and a button-activated design.
"More and more data and information tell us that the trend in dabbing and vaping devices is heading towards meeting the demands of portability and efficiency, with many cannabis companies focusing on streamlining and downsizing their products to provide convenient and efficient vaporization experiences. Unfortunately, the market has yet to offer a dabbing device that consistently meets the diverse needs of users across various travel scenarios. We've noticed this gap and recognized the desire for a highly portable, all-in-one dabbing solution in premium cannabis consumption," said Collin Yu, Chief Strategy Officer at Artrix.
"At the same time, a huge challenge exists in the relatively mainstream cannabis vape segment. Users accustomed to cannabis vaporizers are now looking to elevate their consumption experience. These customers are no longer satisfied with conventional cannabis distillates and live resins; they're exploring premium options like live rosin, diamonds, wax, and higher-quality cannabis concentrates. Our dedicated market analysis team has identified evolving product trends in both the dabbing and vaping device segments, and we've found the perfect balance. This is why we've introduced DabGo, a 2-in-1 disposable dab pen that demonstrates that use simplicity and top-tier vaporization can coexist, providing the ultimate portable dabbing experience to all cannabis consumers."
DabGo by Artrix is now available in a 0.5g disposable dab pen format.