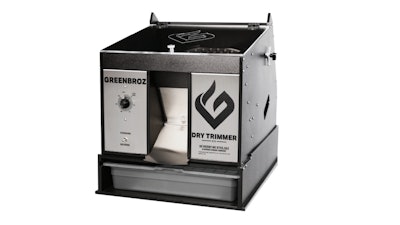 GreenBroz
GreenBroz (San Diego, CA) recently launched the cannabis industry's first artisan dry trimmer, the GreenBroz 215 Dry Trimmer.
The 215 Dry Trimmer:
Processes 2-4 pounds per hour.
Weighs 41 pounds, 51 pounds with stand.
Food-grade stainless steel and HDPE construction.
A whisper quiet motor.
A speed of 20 RPM.
Dimensions of 18.63" (W) x 24.12" (L) x 16.75" (H), 19" (W) x 25" (L) x 21.5" (H) with stand.
Low power requirements - the ability to trim in remote locations.
Patented blade technology facilitates gentle small batch trimming - the flower rolls through the trim chamber without vertical drops or tumbles.
A forward/reverse switch.
An adjustable timer.
A brush arm inside the trim chamber.
Suitable for small- or medium-sized cultivation.
Produces uniform trim material.
Allows the operator to remain in control of the trimming process until desired trim is achieved.
For more information, visit www.greenbroz.com.