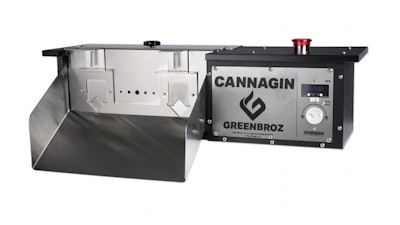 GreenBroz
GreenBroz (San Diego, CA) recently introduced the 215 CannaGin Destemmer. The CannaGin Destemmer features:
A design to speed up the 'bucking' part of the harvest process.
2 face plate options: the stock faceplate comes with 2 spring-loaded shearing doors and 5 various-sized stem guides; the alternate face plate comes with 4 spring-loaded doors.
Face plates are interchangeable and backward compatible with any previous model.
Operation on 115V, 60Hz@25W, 1.7 amp.
A weight of 28 pounds.
The ability to harvest both dry flower and freshly cut flower.
Destemming at a rate of 4-6 pounds per hour.
A whisper-quiet motor.
Variable speed control (1-80 RPM).
Food-grade material construction.
For more information, visit www.greenbroz.com.