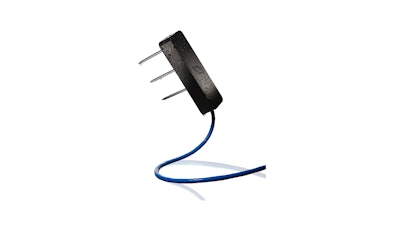 Growlink
Revolutionize your farming practices with Growlink's groundbreaking Terralink Soil Moisture Sensor (VWC, EC, Temp). This advanced technology redefines precision agriculture by delivering unparalleled accuracy and efficiency, all at an affordable price point.
The Terralink sensor goes beyond the capabilities of conventional sensors, transforming the way farmers monitor and optimize soil conditions. With state-of-the-art capacitance technology, this cutting-edge device provides real-time measurements of soil moisture, electrical conductivity (EC), and temperature. Its exceptional precision in non-soil mediums empowers farmers to make informed decisions, leading to maximized crop yield.
"At Growlink, we believe in democratizing advanced technology for farmers of all sizes. Terralink embodies our commitment to providing high-quality solutions that are accessible to every farmer," says Ted Tanner, CEO of Growlink. "By offering Terralink at an affordable price, we aim to support the widespread adoption of precision agriculture without compromising on quality."
Seamless integration with the Growlink Smart Controls Platform ensures instant access to crucial data anytime, anywhere. The user-friendly interface enhances the user experience, enabling farmers to effortlessly harness the power of precision agriculture.
Terralink empowers farmers to gain a deeper understanding of their soil's needs, enabling proactive decision-making and promoting sustainable farming practices. By accurately measuring soil moisture, EC, and temperature, Terralink optimizes crop yield and resource utilization, offering a compelling value proposition.
With the introduction of Terralink, Growlink reaffirms its commitment to driving innovation and supporting farmers of all scales on their journey towards precision agriculture.
To learn more about Terralink and its transformative capabilities, visit https://www.growlink.ag/hardware/p/growlink-soil-moisture-sensor-ec-temp