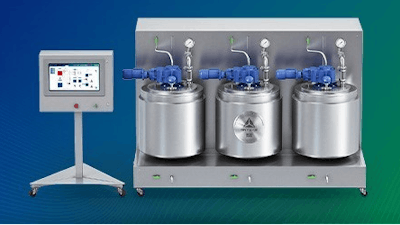 ENTEXS
ENTEXS has launched new THC remediation systems, the RMD-T Series.
THC remediation is difficult for manufacturers of hemp-derived extracts or products.
CBD products, to be federally compliant, must contain no more than 0.3% THC.
For many consumers, however, the presence of any THC is unacceptable and producers in this category must achieve non-detectable (ND) levels of THC.
To complicate matters, the allowable level of THC in the hemp plant at harvest can be as high as 1.0% and experts project that 40% or more of hemp harvested for CBD production will exceed the 0.3% limit, making the need for THC remediation clear.
To solve this problem, the Sacramento-based engineering and fabrication technology company designed the RMD-T Series for hemp extraction.
The RMD-T series achieves cost-effective, very low loss-rate (<5%), organic and scalable remediation.
The system that has been developed over the past six years, including extensive in-house testing on batches ranging in size from liters to thousands of liters regardless of the starting THC levels.
The process uses a proprietary solvent that is 100% USDA Organic under the National Organic Program, and the system is designed and built to comply with cGMP standards.
While removal of THC is the primary objective, the ability to scale affordably is not to be underappreciated. As the CBD industry continues to explode, producers will need to ramp production to keep up.
For more information, visit https://entexs.com/.