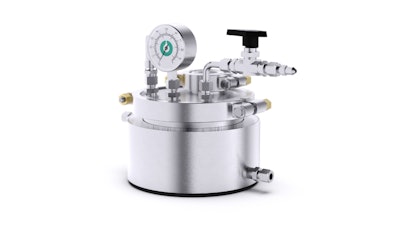 Agrify
Agrify, a provider of innovative cultivation and extraction solutions for the cannabis industry, announced the release of its new Diamond Miner product under solvent extraction brand Precision Extraction Solutions. The Diamond Miner is designed to deliver a safe, reliable, and consistent solution for THC-A crystallization of cannabis, enabling the creation of premium concentrates.
Precision Extraction Solutions, which Agrify acquired in October 2021, is a leading provider of comprehensive, solvent-based extraction and post-processing solutions. With the release of the Diamond Miner, Precision can provide customers with a full suite of equipment for taking cannabis from biomass to concentrates.
The Diamond Miner has an optimal capacity of 1.3 liters and eliminates the need for mason jars for added safety and consistency. Featuring a liquid jacketed vessel for consistent temperature control and repeatable results, the Diamond Miner maintains a consistent internal environment to tightly control the variation in temperature and pressure internally.
Safety and compliance are top of mind for Precision. The Diamond Miner is provided with a Technical Report certification through an Engineer Peer Review from Pressure Safety Inspectors (PSI) that satisfies the Fire Code (IFC and NFPA) for all 50 states and the District of Columbia. Additionally, high-pressure clamps withstand a pressure rating up to 350 PSI. Built with premium 304 grade stainless steel and designed with 2″ sight glass for easy process inspection, the Precision Diamond Miner is built for production.
"Creating consistent products reliably and safely is key for our customers," said Brian Towns, Executive Vice President and General Manager Extraction Division at Agrify. "Our engineers design to high standards, focusing on customer pain points so that operators can focus on what they do best: creating strong products. With the release of the Precision Diamond Miner, we continue to build out our ecosystem of modular products, to help our customers enhance their production capabilities and support their success."