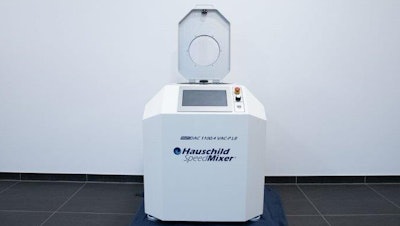 Hauschild Engineering
Mixing components in exactly the right ratio, at the right temperature and in the right time period is one of the most important tasks when formulating and blending terpenes and distillates to make vape oils as well as in other processes (see below) used by cannabis operators. Optimal mixing results are achieved when they can be mixed homogeneously, without bubbles and at a temperature that can be controlled or cooled. The Hauschild Speedmixer SMART DAC series, developed by Hauschild Engineering, simplifies and accelerates the development and prototyping of new materials.
However, mixing materials with low specific weight requires special technology. The Hauschild medium or large series SpeedMixers have long been available in an LR (Long Radius) configuration. The use of the extended arm allows materials to conduct better in the cup holder.
Until now, the SMART DAC 1100/1500/2000 series of large-scale units could mix a maximum of 0.6 gallons of liquid, or up to two kilograms. Now, these mixers can be equipped with an optional Long Radius (LR) that allows mixing in a "gallon" bucket. The following units are now available as "mixing giants":
SMART DAC1100.3 FVZ LR and SMART DAC1100.4 VAC-P LR
SMART DAC1500.3 FVZ LR and SMART DAC1500.4 VAC-P LR
SMART DAC2000.3 FVZ LR and SMART DAC2000.4 VAC-P LR
The previously known grammages up to 1 kg, up to 1.5 kg and up to 2 kg remain.
For cannabis operators, all Hauschild SpeedMixer SMART DACs can be used for:
Formulating and blending terpenes and distillates (vape oils) at lower temperatures creating higher terpene retention.
Infusion and coating of powders (salt, sugar, silica, flowers, HPMC, topical creams, transdermal prescriptions).
Purging and extraction (BHO/PHO) without additional heat or ovens.
Whipping (budders, crumbles and waxes).
Emulsification (micro and nano).
Grinding and milling.
Extraction of water and alcohol.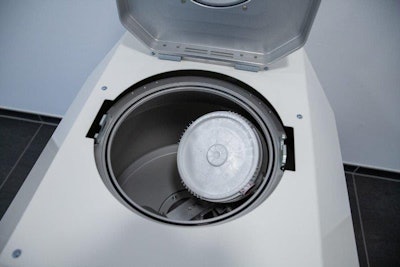 For more information, visit https://hauschild-speedmixer.com/.