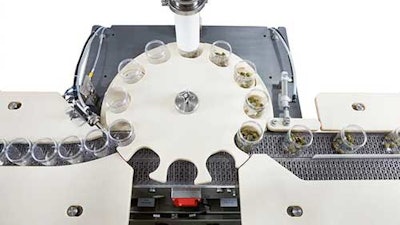 Spee-Dee
Spee-Dee's (Sturtevant, Wisconsin) new cannabis jar filling system allows manufacturers to fill cannabis products with confidence. The new system can fill up to 40 jars per minute. Additional features include:
A dual tare gross weighing system

for a

ccurate filling and weighing of flowers or ground cannabis.
A sanitary design that keeps the product safe, even at high speeds.
The dual weighing system reduces costly product loss by checking the jar tare weight before filling and gross weight after filling, resulting in the actual net weight of the product.
Vibratory settling helps product flow into containers while a dual-lane design rejects under- and overweight products.
Easy integration with multi-head weighers.
A simple design that enables thorough cleaning.
A sanitary funnel and conveyor system ensures hygienic filling with quick changeover while a stainless steel frame and open base allow for easy cleaning.
No-tool star wheels and rails enable quick product changeovers.
For more information, visit https://www.spee-dee.com/.