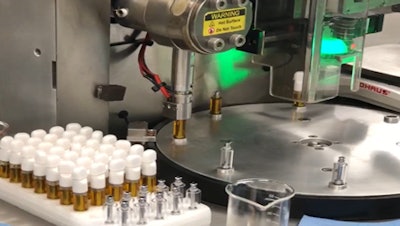 The VFC 100 is a new Vape Filler Capper from Technical Packaging Systems (MJBiz Booth #4612) in Kalamazoo, MI. The VFC100 offers a blend of filling and capping accuracy in a compact, all electric package that is upgradeable with upstream and downstream automation. Additional features include:
A consistent fill accuracy of ±.02 ml at up to 15 cartridges per minute.
A footprint measuring 30" (L) x 30" (W) x 36" (table height).
A new fill nozzle design fills from 360°, eliminating air bubbles while immediately priming the
cartridge wick for immediate capping.
Proprietary technology that moves high viscosity oil at low temperature.
Electrical requirements of 120 volt, 1Phase, 20amp.
A tank/hopper that can accommodate 64 ounces of oil, equal to approximately 1,900 1 ML cartridges.
For more information, visit https://www.technicalpackaging.com/.