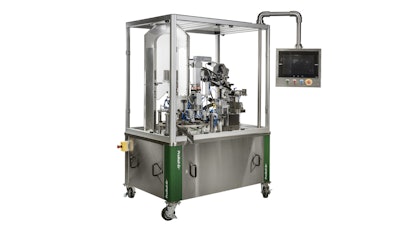 PreRoll-Er
The 100 Series from PreRoll-Er is a patent-pending machine with a compact design that automatically fills pre-rolls. Ideal for smaller floor areas, the PreRoll-Er 100 is built to run all day, every day. The machine adapts to all cones and can be cleaned and changed over in less than five minutes. Additional features include:
A 73.52" (H) x 60.52" (W) x 40.54" (D) footprint.
The ability to produce up to 18 pre-rolls per minute.
An integrated reject system.
A tight and uniform twist.
Weight taken before filling with an accuracy of 0.01 g.
Cone auto-loading with a manually fed carousel.
For more information, visit https://preroll-er.com/preroll-machines/preroll-er-100/.