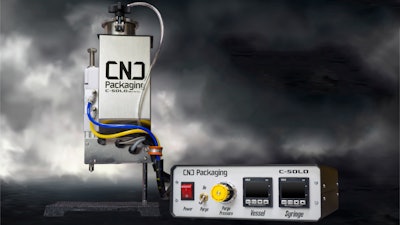 CNC Packaging
The C-SOLO Cartridge Filling Machine from CNC Packaging (Alcoa, TN) is a compact vape cartridge filling machine that provides precision temperature control and low maintenance. Additional features include:
Hands-free foot pedal operation.
An integrated heating system.
Fill volume from 0.1 mL to 1.1 mL.
A filling accuracy of ±0.02 mL.
A 500 mL capacity.
PID temperature control.
Vessel temperature from 10° to 90°C.
Syringe temperature from 10° to 90°C.
A 0-30 psi system purge.
Up to 750 psi injection pressure with 150 psi air supply.
Runs on 120V, 3A single phase.
Made in the USA.
For more information, visit https://cncpackaginginc.com/.