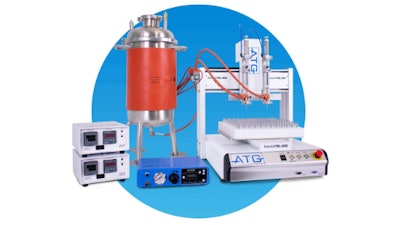 ATG Pharma
The RoboCAP from ATG Pharma provides an automatic filling system that possesses the ability to meet all current and future product filling needs with one robot. The RoboCAP has the ability to maintain automatic filling production while still having the flexibility to pivot production at any time and quickly change between product lines like vape cartridges, capsules, bottles, lotions, creams, and balms.
Features include:
Flexible production ability for low-volume product filling (up to 5 ml).
Uses backpressure, heating system (up to 100°C) and volumetric displacement to guarantee a ±2% filling accuracy.
The ability to scale from 1-4 nozzles for maximum production growth.
Less than 5-minute changeover – from batch to batch and to different product type.
A design that supports concentrates and viscous materials, such as distillates, resins, balms, and creams.
Manufactured in Canada, with tech support across North America.
The ability to upgrade and add future products in the future.
A three–year warranty.
Tech Specs:
A fill rate of 1,200 2,000 per hour.
A weight of 30 kg.
A 485 mm (W) x 590 mm (H) x 500 mm (D) footprint.
Power supply AC 110 - 220V 300W.
A dispense accuracy of ±2.5%.
A dispensable volume range from 0.1 ml to 1.3 ml.
A temperature range from 0°C to 100°C.
For more information, visit https://www.atgpharma.com/.