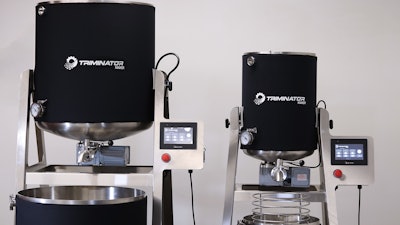 Triminator
Triminator today released a new commercial hash washing machine, the Maker. The Maker offers cannabis producers a high-yield, efficient and scalable solution for producing premium ice water hash at a commercial capacity.
Ice water hash, also known as bubble hash, has become popular among cannabis enthusiasts due to its potent and pure cannabinoid profile. Traditionally, the process was labor-intensive and relied on manual hand-washing techniques, making large-scale production a daunting and unfeasible challenge.
Developed in collaboration with industry hash producers, the Triminator washer ensures optimized trichome separation with commercial-scale yields.
The Maker comes ready to operate out of the box and features:
An all-in-one system that requires no additional parts for washing or collection.

The ability to customize wash parameters and save settings for consistent results.

The ability to easily adjust RPM speed, run time, rest intervals and total run time.

Automatic wash cycles that can save time and labor.

A patent-pending, no-shear impeller that imitates the effects of hand washing by creating an effective yet gentle vortex for trichome separation.

A perforated stainless steel false bottom that protects trichomes during the wash process allowing them to settle into a turbulent-free zone below the vortex.

A washing environment that stays ultra-cool to maintain optimal temperatures for trichome separation.

Applicability for both small-scale boutique producers and large commercial cannabis operations.

A stainless steel construction made of food-safe materials to meet the highest sanitary standards for any GMP-certified facility.

Simple cleaning to reduce downtime between washes and allowing for a long service life.

A built-in step stool that facilitates easy loading and unloading.

Available in 20- and 60-gallon capacity models.
For more, email [email protected].