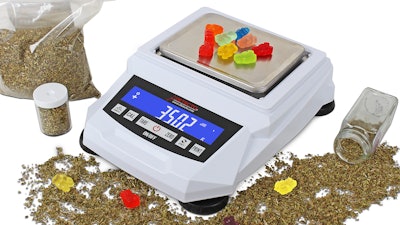 Detecto
Detecto's new 420 series digital precision balance scales are class II legal for trade and can be used for weighing herbs and cannabis in retail operations with 10, 20, or 50 milligram precision. Features include:
NTEP and OIML legal for trade (excluding models 420-100 and 420-2000).
A built-in rechargeable battery.
8 different units of measure.
A removeable air shield for precise measurement (included with all models except 420-3000).
A stainless steel platform that is 5.7 in W x 4.5 in D (145 mm W x 115 mm D) for all models, except for the model 420-3000, which has a larger platform: 7.4 in W x 5.8 in D (188 mm W x 148 mm D).
Overall scale dimensions of 8.6 in W x 11.5 in D x 3.2 in H (219 mm W x 292 mm D x 80 mm H).
A counting mode.
Accuracy to 10 milligrams.
An RS232 serial port for printer output.
A polycarbonate body with stainless steel tray.
Nearly one-inch-high (23-mm-high) bold digits with blue backlight.
For more information, visit https://detecto.com/product/product-overview/precision-digital-balances/420-Series-Digital-Precision-Balance-Scales.