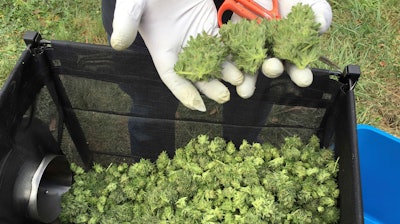 AP Photo/Andrew Selsky, File
An Oregon judge ruled against two vineyards that sought to block a nearby cannabis operation over its potential impact on their grapes.
The Salem Capital Press reports that the defendants — marijuana producers Steven, Mary and Richard Wagner — prevailed against Smera Vineyard and Maysara Winery after a three-year court battle.
Smera and Maysara originally sought a temporary restraining order against the Wagners in 2017 over the odors from their growing and processing operation. The lawsuit argued that terpenes released by the farm would contaminate their grapes, and that those concerns had already cost one winery tens of thousands of dollars in grape sales. The complaint also suggested that drifting particles from the marijuana plants could complicate sales to states and countries with stricter cannabis regulations.
Yamhill County Circuit Judge Cynthia Easterday issued her ruling last month — eight months after a trial in the case — which found that although the marijuana operation could potentially pose a risk to the grapes, "there is insufficient proof at this time by a preponderance of the evidence that it will damage plaintiffs' current or future agricultural products."
The ruling also said the Wagners could use an easement across one vineyard's property.
Because the Wagners prevailed under Oregon's "right to farm" law, they are also entitled to recover attorneys fees and other costs from the plaintiffs, the Capital Press reports. Easterday indicated she would determine the "reasonableness" of those amounts at a later date.