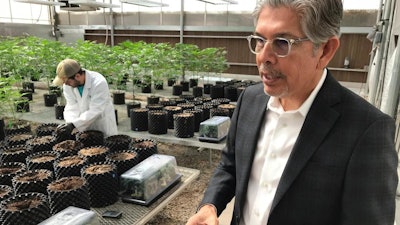 AP Photo/Susan Montoya Bryan, File
Licensed growers in New Mexico could soon be able to grow more marijuana plants following a vote from a state advisory board.
The panel recommended that the state health secretary increase New Mexico's plant limit for individual growers during a virtual meeting last week, the Associated Press reports.
A petition had asked the board to consider significantly increasing or lifting the limit altogether amid concerns about high prices and insufficient cannabis variety in the state's medical marijuana program.
Board members noted during the meeting that supply could be strained if the state increases the amount of marijuana patients can buy or adds to the list of conditions that qualify for the program.
New Mexico established its medical marijuana program in 2007, but some participants argue that the state's nonprofit model has effectively created a monopoly in which producers grow mid-grade marijuana and charge any price they want. The program's director told the AP that supply is actually exceeding sales and that previous increases in the plant limit have not curbed prices.
The state's cannabis industry, which has called for lifting the limit altogether, questioned the state's data and blamed its fee structure for additional operating costs.
The panel also backed closing a loophole in the state's reciprocity law for patients enrolled in medical programs in other states, the AP reported.