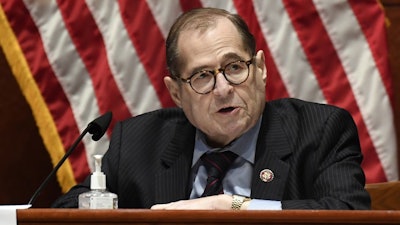 AP Photo/Susan Walsh, Pool, File
Legislation to remove marijuana from the nation's controlled substances list is poised to finally receive a vote in the U.S. House of Representatives.
House Democratic leaders scheduled debate on the Marijuana Opportunity Reinvestment and Expungement Act for late this week, Marijuana Business Daily reports.
The bill introduced last year would, in part, explicitly allow states to establish their own marijuana regulations, enable cannabis companies to access banking services, and establish a sales tax program that would fund efforts to grow the industry in communities harmed by the nation's drug policies.
The House originally planned to take up the measure in September, but it was delayed amid a push for additional COVID-19 relief. It is now scheduled to be taken up weeks after a slew of generally conservative-leaning states approved cannabis initiatives on the November ballot.
A vote could reportedly be the first time a congressional body votes to lift the federal ban on marijuana. Although it appears to have support in the Democrat-led House, it faces opposition in the Republican-controlled Senate — and its road through the Senate is likely to remain difficult even if Democrats assume control of the chamber in a pair of runoff elections in Georgia early next month.