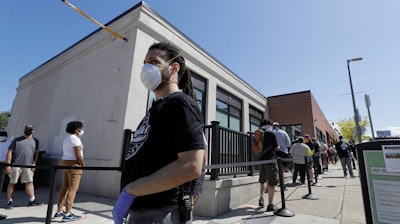 AP Photo/Steven Senne
A group representing marijuana companies in Massachusetts has dropped its lawsuit over new state regulations after the case sparked criticism and threats of a boycott.
The Commonwealth Dispensary Association originally sued the state's Cannabis Control Commission, the Boston Globe reports, over newly established standards for online marijuana delivery companies. The trade group had lobbied hard against the creation of delivery retailers separate from brick-and-mortar operations, and alleged in the complaint that the regulations were not allowed under the state's definition of cannabis retailers.
But marijuana activists in the state accused the CDA of protectionism and said the lawsuit sought to stifle efforts to diversify the industry in Massachusetts. Licenses under the new program are limited to those enrolled in the commission's social equity programs — mostly minority business owners impacted by past drug enforcement policies — for its first three years.
Advocates, the Globe reported, quickly circulated a list of CDA members to boycott; the fierce response prompted more than a dozen companies to depart the group.
On Sunday, the association told the paper that it was "in the best interest of the industry and our members" to drop the case. It was unclear whether the companies that left the CDA would seek to rejoin the group.
"We all need to be working together on achieving our many shared objectives, including increasing the participation of a diverse set of entrepreneurs in the industry," the group said in the statement.