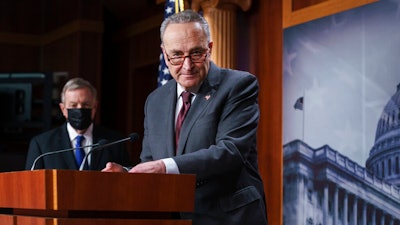 AP Photo/J. Scott Applewhite
Key Senate Democrats this week vowed to make marijuana reform legislation a priority during the new session of Congress.
Senate Majority Leader Chuck Schumer, D-N.Y., along with Sens. Cory Booker, D-N.J., and Ron Wyden, D-Ore., issued a statement indicating they would release a draft proposal on "comprehensive cannabis reform legislation" in "the early part of this year."
The lawmakers said the bill would need to end the federal ban on marijuana, as well as address decades of drug policies that disproportionately harmed people of color — which would mean including "restorative" justice measures and ensuring the growing legal cannabis industry benefits those affected communities.
They also said the legislation would require public health protections, a "responsible" system of taxes and regulations, and input from stakeholders.
"We are committed to working together to put forward and advance comprehensive cannabis reform legislation that will not only turn the page on this sad chapter in American history, but also undo the devastating consequences of these discriminatory policies," the senators said in the joint statement. "The Senate will make consideration of these reforms a priority."
The House passed legislation to legalize marijuana at the federal level during the waning weeks of the last session of Congress — the first chamber in the nation's history to take that step — but observers considered the measure to be a long-shot in the Senate even after Democratic candidates won both runoff elections in Georgia to take a narrow majority.