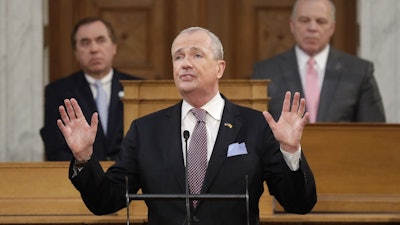 AP Photo/Seth Wenig
A bill establishing regulations for recreational marijuana in New Jersey remains on the governor's desk after the original deadline to sign it came and went this week.
Voters in the state overwhelmingly approved a constitutional amendment legalizing marijuana on the November ballot, and state lawmakers in December passed a measure setting up a recreational marketplace in the state. Gov. Phil Murphy faced a Monday deadline to sign the measure, but the speaker of the state Assembly instead pushed the deadline back to Feb. 18, the Associated Press reports.
Murphy initially indicated his support for the measure, but he has subsequently made vague references about ensuring that the state's regulations don't ensnare young people — particularly those of color. The amendment approved in November legalized marijuana for individuals age 21 and older.
Assembly Speaker Craig Coughlin, D-Woodbridge, told the AP that lawmakers and the governor were making progress on changes to the bill. Once signed, New Jersey could reportedly see a marijuana marketplace in about six months' time.