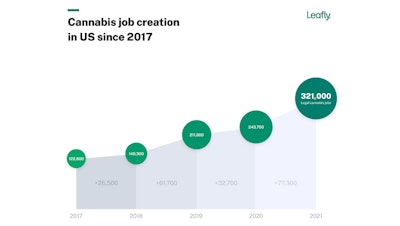 Leafly
Leafly has released "Jobs Report 2021," its fifth annual cannabis industry jobs report. According to the report, the legal cannabis industry now supports a record-high 321,000 full-time U.S. jobs in 37 states with legal medical or adult-use markets.
The industry also added 77,300 jobs in 2020, a 32% increase in year-over-year growth despite the many challenges presented by the COVID-19 pandemic. Cannabis is creating jobs at a faster rate than any other American industry.
Declared essential businesses by many states, cannabis-related businesses not only created new jobs, but drove a record-high $18.3 billion worth of cannabis product sales in 2020. The 71% increase over 2019 provided crucial tax revenue that has helped communities across the country.
Despite record growth in the industry, the report also shows how legal cannabis still faces social equity challenges. Troubling racial and gender disparities in business ownership remain, and the report examines strategies to close this gap, including legalizing, decriminalizing, and descheduling cannabis, as well as removing barriers to capital for communities of color.
Key findings include:
The number of full-time cannabis jobs has doubled since 2018 and risen by 161% over the last four years.
The average monthly cannabis purchase size increased across every age and gender demographic, with consumers buying 33% more cannabis per month than in 2019.
Some states, like Michigan and Illinois, more than doubled the size of their cannabis industries last year.
California remains the nation's leader in cannabis jobs, with 57,970 full-time equivalent jobs and more than $3.77 billion in cannabis sales in 2020 (top ten ranking below).
Illinois rose two spots on the list to #8 in the state's first year with legal adult-use cannabis stores open, tripling its total sales and adding more than 8,000 new full-time jobs-- but of 75 new cannabis store licenses expected to be issued in 2021, not one is minority-owned.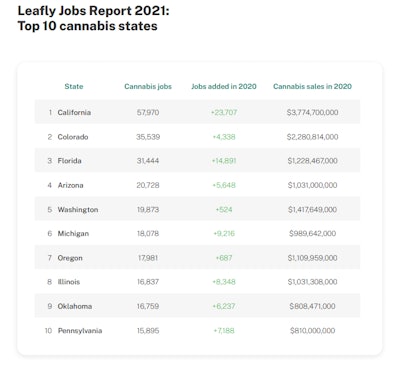 Methodology
Federal prohibition prevents the U.S. Department of Labor from counting state-legal marijuana jobs. The 2021 Leafly Cannabis Jobs Report was created by journalists, editors, and data analysts at Leafly, in partnership with labor economists at Whitney Economics, using publicly available sales data compiled by state cannabis regulatory agencies, as well as cannabis employee license data, median state salary statistics, and cannabis job salary surveys.
Other factors that influence the Leafly Jobs Report include seasonal/annual market forces, investment and the availability of expansion capital, business optimism surveys, state-by-state licensing and regulatory conditions, registered medical marijuana patient counts, per-patient spending averages, and other annual business climate indicators.