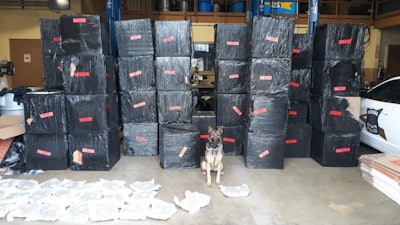 Indiana State Police
A routine traffic stop near Chicago last week uncovered more than a half-ton of marijuana, state law enforcement officials announced.
The Indiana State Police said a trooper stopped a van for a moving violation near Lowell, Indiana, late in the morning of March 16. Following a canine stiff of the vehicle, officers uncovered large boxes and bags in the rear of the van that contained "a total of 1,264 individually sealed bags," each containing about 1.5 pounds of marijuana.
Officials said a "conservative" estimate valued the shipment between $5.7 million and $8.5 million.
The driver of the van, identified as Christopher S. Colburn, age 31, of McKinleyville, California, was preliminarily charged with dealing marijuana and possession of marijuana with a prior conviction, both felonies. Actual charges will be determined by the Lake County, Indiana, Prosecutor's Office.