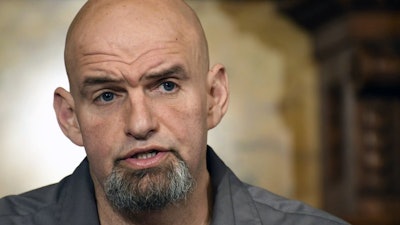 AP Photo/Marc Levy, File
Pennsylvania's governor this week pardoned a suburban Philadelphia eye doctor who said he grew marijuana to help his terminally ill wife.
Paul Ezell, an ophthalmologist from Haverford Township, pleaded guilty to a felony drug charge and served six months in jail in 2014, as well as lost his ability to practice medicine, the Associated Press reports.
He has said he began growing marijuana to reduce his wife's use of opioids. As he was taking down his growing operation following her death, someone spotted marijuana clippings in the garbage and reported Ezell to local police, who found 28 plants in a raid of his home.
Pennsylvania legalized medical marijuana two years later.
Lt. Gov. John Fetterman's office said the pardon by Gov. Tom Wolf allows Ezell, 65, to return to practicing medicine. Fetterman chairs the state's pardon board and is an advocate for recreational marijuana in the state.
"Here's a doctor of 30 years who had not so much as a speeding ticket, and then his whole life is ruined for giving his wife medicine that's now legal in Pennsylvania," Fetterman said in a statement.
Ezell's daughter, a nurse who lost her license in the same investigation, will have her case taken up by the pardon board next month.