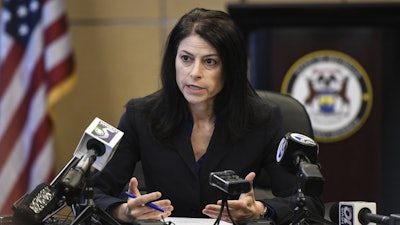 Matthew Dae Smith/Lansing State Journal via AP
Individuals in Michigan who are fired for marijuana use outside the workplace should remain eligible for state unemployment benefits, the state's attorney general argues.
Attorney General Dana Nessel on Monday filed a brief with the state's Unemployment Insurance Appeals Commission, which is considering a group of three cases involving employees who were terminated for using marijuana on their personal time.
The filing, according to the Associated Press, noted that administrative law judges have reached different conclusions in cases involving benefits for those using "illegal drugs." Nessel wrote that in each case before the commission, marijuana was not used on the job, was not consumed on employer property, and did not impair the employees during work hours.
Nessel added that although Michigan is generally an at-will employment state, the state cannot deprive people of unemployment benefits for engaging in a "legal activity."
"Nobody over 21 can be penalized or denied any right or privilege solely for legally using marijuana, and employers cannot control their employees' private lives by calling the legal use of marijuana outside of work hours 'misconduct,'" Nessel said in a statement.