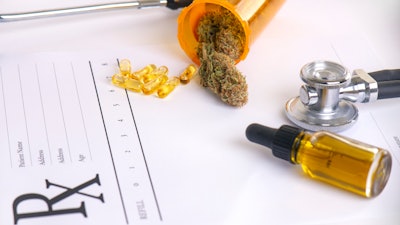 iStock
New York -- According to a comprehensive research report by Market Research Future, the medical cannabis market is anticipated to register a CAGR of 18.4%, crossing the value of $33.21 billion by 2027.
Market scope
Medical cannabis, often known as medical marijuana, is an herbal medicine derived from cannabis plants that are used to treat a specific symptom or ailment. Although the term cannabis refers to a plant genus, it is also used to refer to the crude medicine extracted from the plants' leaves and flowers, which is known as marijuana. Ancient Indian, Chinese, Egyptian, and Islamic civilizations all employed it medicinally. Cancer, chronic pain, depression, diabetes, arthritis, glaucoma, epilepsy, migraines, multiple sclerosis, AIDS, PTSD, amyotrophic lateral sclerosis (ALS), Alzheimer's, and Tourette's are some of the diseases and symptoms for which cannabis is used. Cannabis has been legalized for medical usage in a large number of nations, with varying degrees of legal limitations, due to its therapeutic effects.
Market drivers
In comparison to other therapy choices, cannabis is safer and has less severe negative effects. It's also used in conjunction with other medicines, either to improve their efficacy or to mitigate negative side effects. Apart from business leaders, many corporate and government institutions are funding the research and development of cannabinoids for medical applications. Clinical studies, research and development operations, and the commercialization of cannabis-based indications are also likely to fuel the medical cannabis market's advancement.
Market restraints
Apart from the well-established medical benefits of cannabis, it also has negative health consequences. Cannabis addiction, chronic psychosis-related health problems, altered brain development, reduced life satisfaction, cognitive impairment, bronchitis, and poor educational outcomes have all been linked to heavy or long-term cannabis usage. Dizziness was also found as the most common non-serious adverse reaction, with a 15.5% occurrence rate among persons exposed to cannabis.
COVID-19 analysis
The COVID-19 outbreak has disrupted the global medical cannabis market's supply chain and affected the entire value chain, from raw material procurement to manufacturing, packaging, and distribution. As of now, the impact does not appear to be significant since several factories have the requisite raw materials and end-product stock. The damage is projected to increase if the pandemic continues and trade restrictions are extended.
Browse the report here.