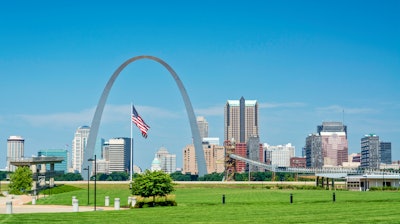 iStock
Missouri is now home to more than 140 medical marijuana dispensaries less than a year after its first opened, according to state cannabis regulators.
And the Missouri Department of Health and Senior Services, which oversees the state's new medical cannabis sector, said that number could approach 200 dispensaries by the end of the year, KTVI-TV reports.
Missouri voters approved a constitutional amendment legalizing medical marijuana in 2018. The measure also stipulated that the state should open at least 192 dispensaries. The first opened last October; Lyndall Fraker, the director of DHSS' medical marijuana section, told the station that 142 are currently open and the remaining 50 are on track to open in coming months.
The state's cannabis industry now employs more than 5,000 people, the agency added, while Fraker said sales numbers have been "pleasantly surprising." The state reported $91 million in sales in July and $113 million in August.
Regulators have licensed 63 cannabis growers and 86 manufacturers, but less than half of those are currently up and running. Fraker expected most of the remaining growing operations to begin in the next three months, which could be important since state officials project the number of medical marijuana patients to climb from about 134,000 currently to 180,000 over the next year.
Lawmakers could also soon revisit legislation that would allow cannabis companies to deduct their expenses. Gov. Mike Parson vetoed that bill earlier this year, but a legislative veto session begins next week, and Parson suggested the issue could come up again in the next full session.
"It's a huge burden in Missouri to have to pay tax on the full amount of sales and not just the profit of sales, which is unlike any other business that I know of," Fraker told KTVI.