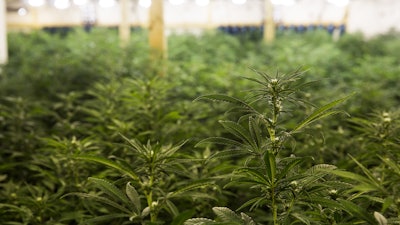 iStock
Federal prosecutors in Maine announced charges against 12 people in connection with a long-running illegal marijuana cultivation and distribution scheme.
According to the criminal complaint, Lucas Sirois, 41, of Farmington, Maine, and his co-conspirators took in more than $13 million over six years while paying local law enforcement and elected officials.
Sirois organized the operation to appear legal under the state's medical marijuana program, but prosecutors said he sold marijuana on the illegal market and laundered the proceeds through a complex corporate structure. He also allegedly lied to his financial institution and filed false income tax returns.
Others charged in the complaint include:
Alisa Sirois, Robert Sirois and Ryan Nezol, Lucas Sirois' alleged co-conspirators;
Brandon Dagnese, who arranged for out-of-state distribution of more than $1 million worth of marijuana in 2018 and 2019;
Kenneth Allen, Sirois' tax preparer;
Bradley Scovil and Derrick Doucette, two former Franklin County sheriff's deputies who obtained confidential law enforcement information on Sirois' behalf and, in exchange, received ownership stakes in his business and new vehicles;
Kevin Lemay, a police officer from Wilton, and James McLamb, a former Oxford County sheriff's deputy, who confirmed law enforcement surveillance of Sirois;

Kayla Alves, a Franklin County assistant district attorney who tipped off Scovil about the probe and, with Lemay and McLamb, destroyed electronic records; and
David Burgess, a town selectman from Rangeley who managed Sirois' marijuana business and advocated for his interests in town government.

The complaint lists 14 criminal counts, including charges related to distribution of controlled substances, money laundering, bank fraud, tax evasion, and tampering with documents. Most of the defendants face the possibility of decades in prison.
A 13th person connected to the probe, meanwhile, reached a plea deal with prosecutors. Randal Cousineau, the primary financier and 50% partner in the illegal growing operation, pleaded guilty to conspiring to possess and distribute more than 1,000 kilograms of marijuana and 1,000 marijuana plants. He faces up to life in prison.
A civil complaint filed by federal prosecutors also seeks the forfeiture of 12 properties either involved in the illegal trafficking or purchased with its proceeds.