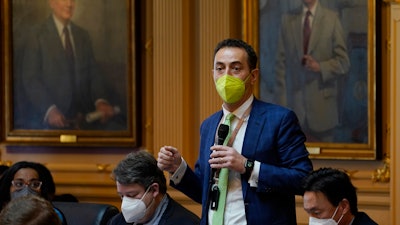 AP Photo/Steve Helber
RICHMOND, Va. (AP) — The Virginia House and Senate churned through scores of bills Tuesday as they approached a key deadline for the year's legislative session.
Lawmakers debated topics ranging from marijuana to campaign finance ahead of what's known as "crossover," the point by which all legislation but the budget bills must clear its originating chamber.
The GOP-controlled House and Democrat-controlled Senate will now begin making their way in earnest through the other chamber's measures and sending more legislation to Gov. Glenn Youngkin. The General Assembly is scheduled to meet through March 12.
Marijuana legalization and retail sales
The Democrat-controlled Senate made last-minute changes that would allow existing medical marijuana providers and a limited number of industrial hemp processors to begin retail sales of recreational marijuana in September, more than a year before the full retail market will open.
The late changes combined two bills sponsored by Sen. Adam Ebbin into one, drawing bipartisan criticism from members who did not have time to read the final version of the bill, which is hundreds of pages long.
"This is absurd," said GOP Sen. Mark Peake.
The GOP-controlled House opted not to take any action on its own marijuana bills before the legislative deadline. House Republicans have said they will consider bills passed by the Senate, although it remains unclear what kinds of changes they intend to propose.
The bill passed by the Senate would allow transitional sales of marijuana to begin on Sept. 15, but only by current medical marijuana providers and 10 industrial hemp processors. Anyone else who wants to get into the retail sales market will have to wait until Jan. 1, 2024.