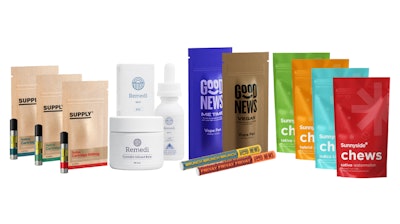 Cresco Labs
Cresco Labs announced the launch of its High Supply, Good News and Remedi brands in Florida. In addition, the company released a new edibles brand, Sunnyside Chews, available only in the state. Cresco Labs will soon expand to Florida its premium craft-quality flower brand, FloraCal Farms, and bestselling flagship brand, Cresco.
Throughout March, Florida patients can expect the following branded products to be available for sale exclusively at the Company's 15 Sunnyside locations:
Supply – Cresco's cannabis brand offering options enters Florida under the name, Supply. Available 500mg Carts offer unique strain blends made with 100% high THC oil, no additives or fillers and live terpenes delivering natural aromas and flavors extracted from fresh frozen flower. A 1g offering is launching soon.
Good News – Good News offers 300mg disposable, ready to use vape pens in four occasion-based flavors: Berry (Me Time), Orange (Brunch), Melon (Friyay) and Mint Chocolate (Vegas). Good News products are developed to deliver quality, safe and consistent cannabis experiences through easy to use and benefit-forward forms formulated to elevate life's best moments.
Sunnyside Chews – Nuances of OMMU regulations created an opportunity for Cresco to develop the Florida market's first effect-driven gummy under a new brand, Sunnyside Chews. Using a proprietary blend of distillate oil and Live Rosin terpenes with no additives or fillers, Sunnyside Chews are precisely dosed for consistent cannabis experiences and deliver 10mg of THC per Chew. The product lineup is gluten free and features four flavors and effects: Watermelon (Sativa), Sour Pineapple (Sativa), Orange (Hybrid) and Blue Raspberry (Indica). 10 Chews and 100mg of THC per pouch.
Remedi – Tailored to meet the needs of patients, Remedi products come in precise doses and forms similar to other health and wellness products. Remedi offers a Tincture, Balm and RSO Syringe. Remedi Tinctures are infused with 500mg of THC to help patients looking for quick relief with just a few drops under the tongue. Remedi Balm contains 500mg of THC in a 2oz jar. It's also paraben free, contains soothing ingredients like mango butter, almond oil and coconut oil and is recommended for localized, non-intoxicating relief from bodily discomfort. Finally, Remedi RSO Syringes have 1000mg, strain specific offerings for patients seeking potent dose of relief.